28614 hours, 41 minutes, and 9 seconds until Whooops - Where are all the Events!
Next Class Feb 28 & Mar 7
Invitation to Ocean Wavers
Modern Square Dance Class
New 2022 Class Starts Sep/Oct 2022!


Try to come early your first night so we can get you signed in.
First Class is free -
•
($5 value)
Woman's Club of Carlsbad
3320 Monroe Street • Carlsbad, CA 92008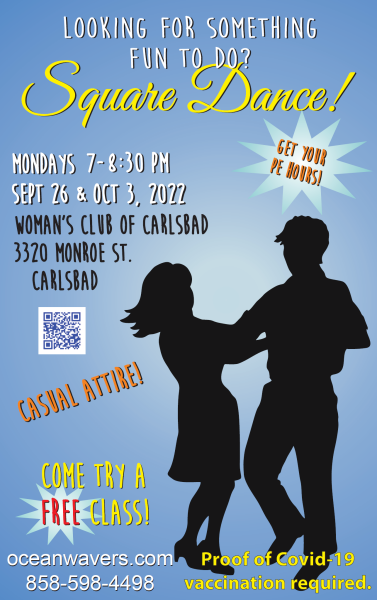 Tell your friends, too. Hope to see you there!

Not Available Mondays? Are you looking for a club closer to you?
Let us know your situation and we can try to help you find a better fit.

Also, you can search Meetup.com or Google for Square dance clubs near you!
You won't regret it!